Following a year of unprecedented cyber-attacks, business interruption and supply chain disruption, and natural catastrophe activity, these three perils are foremost in the minds of survey respondents in 2022. Meanwhile, awareness of the risks of climate change is growing among companies, achieving its highest-ever position of sixth in the Allianz Risk Barometer.
The top business risks for 2022
The most important business risks for the next 12 months and beyond, based on the insight of 2,650 risk management experts from 89 countries and territories.
The most important global business risks for 2022
Click on the bars in the chart for further details
Based on the insight of 2,650 risk management experts from 89 countries and territories (% of responses). Figures do not add up to 100% as up to three risks could be selected. Source: Allianz Global Corporate & Specialty
Overview: Business interrupted
These risks converged in 2021 to cause unprecedented levels of disruption to businesses and their supply chains. The ripple effects of the pandemic and surges in Covid-19 infections have combined with crippling cyber-attacks and extreme weather events to test business resilience and push supply chains to breaking point. Covid-19 continues to cast its shadow but it is a digital pandemic – cyber risk – returning to the top of the rankings (it last held this spot in 2020) that is one of the standout findings of the Allianz Risk Barometer.Ransomware and other disruptive forms of cyber-attacks continue to bedevil businesses, while potential risks from digitalization and the shift to remote working are driving growing concern.
Dropping one place to second in the 2022 rankings, business interruption (BI) is synonymous with many of the top ranked risks in the survey. It is only the third time in the 11-year history of the Allianz Risk Barometer that it is not ranked top, reflecting its role as the most feared consequence of threats like cyber, pandemic outbreak and natural catastrophes in particular.
The past 18 months have been a wake-up call for BI and risks are likely to remain elevated for the foreseeable future. The pandemic has exposed the fragility and complexity of modern supply chains, and how multiple events can come together to cause problems, raising awareness of the need for greater resilience and transparency – 45% of respondents said recent supply chain disruption had had a large impact on their sector.
Supply chain disruption is expected to ease in the second half of 2022, Covid-19 permitting, but the vulnerabilities exposed by a host of recent events, ranging from the Suez Canal blockage to the global shortage of semiconductors, could take companies years to fix and involve significant costs if, for example, they are looking to reduce reliance on critical suppliers – such as manufacturers in Asia – to build alternative supplies elsewhere in the world.
Companies' growing reliance on technology and digitalization is likely to be the biggest challenge for BI going forward. Alongside supply chain disruption these were cited as the biggest changes brought about by the pandemic, while cyber is the most feared cause of BI in this year's survey. Respondents note that cyber is still not as well understood as traditional BI triggers such as natural catastrophes or fire, therefore mitigations are not as well developed. Cyber security also ranks as companies' major environmental social governance (ESG) concern, with respondents acknowledging the need to build resilience and plan for future outages or face the consequences from regulators, investors and other stakeholders.
Priority issues on the risk agenda
The rise of natural catastrophes and climate change to third and sixth respectively is telling. Recent years have shown the frequency and severity of weather events are increasing. In 2021, global insured catastrophe losses are expected to be in excess of $100bn – the fourth highest year on record.
Hurricane Ida in the US may have been the costliest event, but more than half of the losses came from so-called secondary perils such as floods, thunderstorms, tornadoes and even winter freezes, which can often be local, but increasingly costly events. More are expected.
Respondents are concerned about the physical loss and supply chain impact from climate change-related weather events. However, they are also worried about managing the transition to a low carbon economy and increasing regulation, reporting requirements and litigation with "lack of actions taken to address climate change" being the second highest ESG concern behind cyber.
Although cyber risk is perceived as posing a more immediate threat to business than climate change – it accounts for more responses than climate change and natural catastrophes combined – these two perils are also linked by the fact that two of the most significant impacts expected from changes in legislation and regulation (the fifth top risk) in 2022 will be around big tech and sustainability. Meanwhile, within climate change, resource depletion is a growing risk for companies that is likely to receive increasing attention from regulators in future.
With pandemic outbreak dropping to fourth place in this year's rankings (from second in 2021), companies' Covid-19 concerns appear to be easing, although the survey pre-dates the Omicron variant. However, the majority of businesses (89%) say they feel relatively well prepared for a future pandemic event but Omicron is a reminder that Covid-19 remains an unpredictable threat, with potentially long-term and far-reaching consequences. This is reflected in the rankings of BI and cyber, but also by the entry of shortage of skilled workforce into the top 10 risks at number nine, with staff absences and shortages expected to disrupt business again in 2022.
Building resilience and protective measures
The disruption of the past year means awareness of BI risk is moving beyond risk management departments and becoming an important issue across entire companies, triggering reviews of exposures, business resilience and critical supply chains. There is a growing desire and willingness among top management to bring greater transparency to supply chains with organizations investing in tools and systems and working with data to better understand the risks. Increasingly, businesses and insurers see the need to build resilience against the major causes of BI as a competitive advantage.
For example, as the cyber risk landscape evolves, insurers are helping clients improve their cyber security resilience. AGCS now assesses each insurance submission it receives against specific criteria. Assessments look for proactive technology controls, as well as regular backups, patching, training, business continuity arrangements and crisis response capabilities.
Businesses and insurers also have to become more resilient against extreme weather events. Previous once-in-a-century events may well occur more frequently in future. At the same time, with secondary perils accounting for a growing number of losses, current modeling capabilities and risk mitigation strategies will need to be reassessed and improved.
Recent events have shown that so-called 'safe' regions or times of the year can no longer be taken for granted. Therefore, both buildings and business continuity planning need to become more robust in response. Insurers help and support their clients in both of these areas, whether it be advising on flood mitigation, building reinforcement measures or aiding business continuity planning for a wide range of crisis events. Such planning can make a real difference when disaster strikes, ensuring companies can get back operating as quickly as possible.
As awareness of BI risks grow, there is also a realization that not all BI risks are that easy to insure. Capacity for large BI and contingent business interruption risks is currently limited, especially where there is a lack of transparency. The better the transparency and data, the more meaningful capacity insurers are able to provide. It is critical to understand the value chain and identify the critical exposures in order to mitigate the risks and create solutions to transfer or reduce the risk
What keeps business leaders up at night?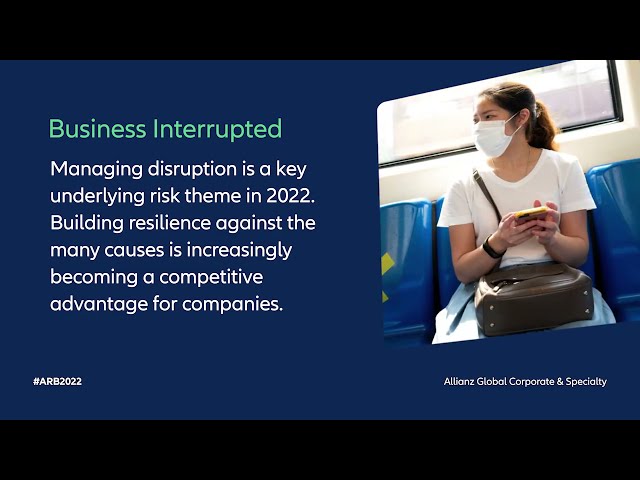 Further information
Top 10 global business risks graphic
Allianz Risk Barometer methodology
The 11th Allianz Risk Barometer incorporates the views of 2,650 respondents from 89 countries and territories. The annual corporate risk survey was conducted among Allianz customers (global businesses), brokers and industry trade organizations. It also surveyed risk consultants, underwriters, senior managers and claims experts in the corporate insurance segment of both AGCS and other Allianz entities.
Respondents were questioned through October and November 2021 [1]. The survey focused on large- and small- to mid-size companies. Respondents were asked to select the industry about which they were particularly knowledgeable and to name up to three risks they believed to be most important.
Most answers were for large-size companies (>$500mn annual revenue) [1,208 respondents, 46%). Mid-size companies ($250mn to $500mn revenue) contributed 518 respondents (20%), while small-size enterprises (<$250mn revenue) produced 924 respondents (34%). Risk experts from 22 industry sectors were featured.Ranking changes in the Allianz Risk Barometer are determined by positions year-on-year, not percentages.
All currencies listed in the report are in US$ unless stated.
89 countries and territories
[1] The Allianz Risk Barometer 2022 survey was conducted between October 20 and November 17, 2021, so pre-dates awareness of the emergence of the Omicron variant of Covid-19.
Allianz Risk Barometer 2013 to 2022
The most important business risks in the last 10 years - globally
Click on a year in the timeline to see the development of the risks over time
Click on the bars in the chart for further details
This graphic shows how perceptions of selected top risks have changed over the past 10 years (according to % of responses). Not all risks that have featured in the annual survey appear in this graphic as risks and categorizations have changed over time. To view the top risks for each year by ranking position see the previous reports.
Source: Allianz Global Corporate & Specialty
Stage picture: Shutterstock

Keep up to date on all news and insights from AGCS
Allianz Group companies
The Allianz Group offers a wide range of products, services, and solutions in insurance and asset management and operates as an international insurer on almost every continent.
With our worldwide network, Allianz Global Corporate & Specialty (AGCS) is one of the very few global insurers with an exclusive focus on the needs of global corporate and specialty clients.